Automotive airbrush art is truly eyecatching. With the right airbrush, you can really paint something flashy and spectacular that will turn heads for when you're cruising around the block.
Choose the wrong airbrush for the job, and it will almost certainly end with a terrible and permanent stain on your whip.
After dabbling with automotive airbrush paint over the years, I thought I'd share how I go about choosing an airbrush for this type of work.
The best airbrush for automotive paint is capable of high detail, is within your budget, and matches the size of the job. Double-action 0.35mm nozzle airbrushes of average price point are capable of using automotive paint and producing high-quality automotive art.
For a quick pick airbrush for automotive, get the Iwata Eclipse HP-CS. This airbrush is highly versatile for detail and wide spray applications using solvent-based automotive paint.
Read on for my top 5 airbrush picks and for more details on how to get the best airbrush for your specific automotive painting needs.
---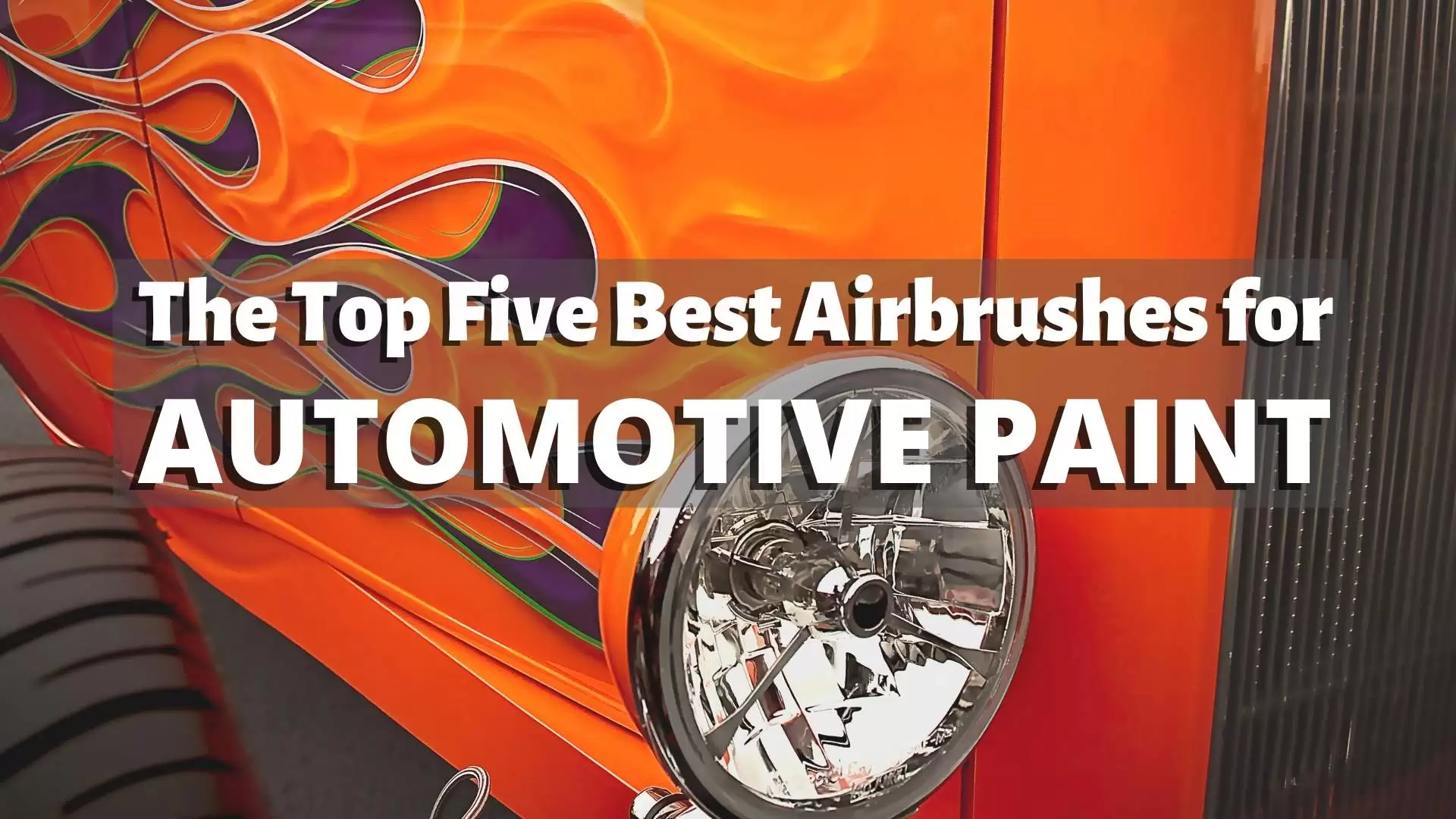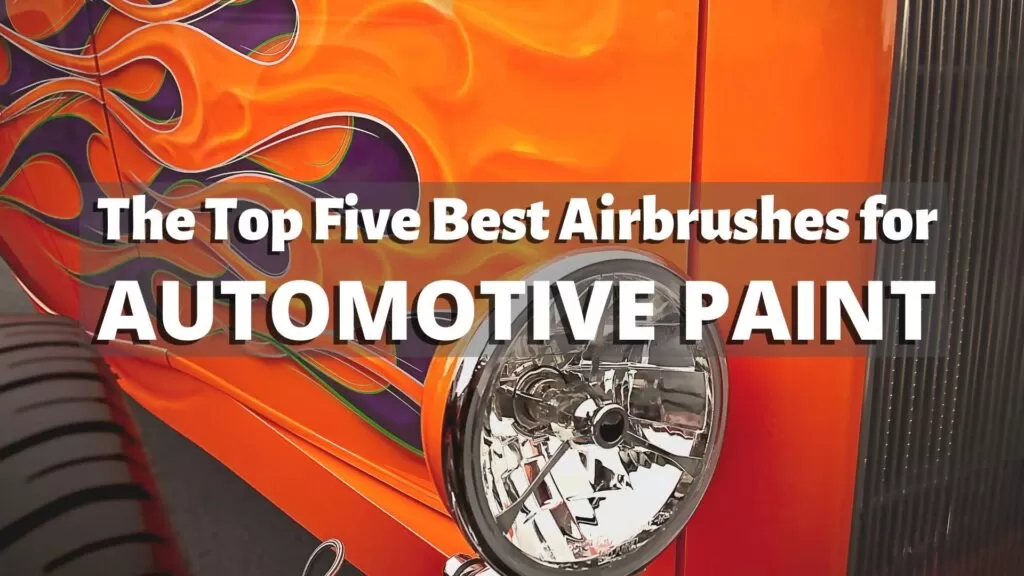 The Difference Between an Airbrush and a Spraygun
Almost everyone has heard the terms spray gun and airbrush before. Sometimes people refer to an airbrush as a spray gun and vice versa.
If they both do pretty much the same thing, and people get them confused all the time, what's the difference?
An airbrush and a spray gun both atomize fluid particles for painting. They are both used in craft, commercial, and industrial projects. However, an airbrush is typically smaller, detail-oriented, and often double-action. Conversely, a spray gun is larger, has a fan spray pattern, is single-action, and is used for spraying wide areas.
At the end of the day, the difference between an airbrush and a spray gun comes down to terminology – a trigger action airbrush with a fan tip nozzle is basically a mini spray gun, and a round-nozzle spray gun is basically a big single-action airbrush.
For the purposes of this article, an airbrush refers to an air tool that is used for smaller artistic paint jobs rather than the spray guns typically used to apply a full coat of paint.
The Best Airbrushes for Automotive Paint | What to Look For
Pretty much any airbrush will work with automotive paint if it's mixed to the right consistency. Most automotive paint is solvent-based which actually allows it to spray better than its acrylic-based counterpart.
For more on this, check out this article for an in-depth explanation on how to mix automotive paint for airbrushing.
What you should actually be looking for in an airbrush for automotive paint really depends on how you'll be using it.
Do you need a wide spray pattern, fine lines, or maybe something to just touch up a chip in the paint?
Whatever your end goal is, here are the main things to consider when choosing an airbrush for automotive paint:
Level of detail
Cost
How much you're going to use it
Airbrush Level of Detail
The level of detail of an airbrush directly corresponds to its nozzle size. Smaller nozzles can paint fine lines but they deliver less paint. Larger nozzles can spray more paint at the expense of their level of detail.
For painting something like flames on the side of a vehicle, an airbrush with a medium to large spray pattern would be appropriate. For a small detailed illustration on a tailgate, a fine-nozzled detail airbrush would work much better.
Airbrush Cost
There is a large spread of costs in airbrushes from very cheap to quite a sizable investment.
Luckily, in airbrushing, you typically get what you pay for. I find that the top-quality airbrushes cost much more than the cheap ones because they work that much better.
ARTICLE: What Makes a Good Quality Airbrush
Level of Intended Usage
When choosing an airbrush for automotive paint, how much you plan to use it should be top of mind. If you're really getting into the artform and plan to put some hours into your craft, a cheapo brand will not be the right choice.
However, something cheap, easy to use, and ready to go out of the box may be just what you need for a quick paint touch-up.
1. Iwata Eclipse HP-CS | Best All Around Airbrush for Automotive Paint
For those who have been following Metastate Paint for a while know how highly I speak of the Iwata Ecplise HP-CS. This airbrush is truly the best all-around airbrush you can get for automotive paint. Its 0.35mm nozzle is a perfect size for medium-large spray patterns while also capable of fine detail work. It's not cheap, but it's about the best airbrush you can get for the price. This airbrush is built to last so its something you should get for automotive airbrushing for years.
| Iwata Eclipse HP-CS | |
| --- | --- |
| Level of Detail | Medium/Fine (0.35mm nozzle) |
| Cost | Average | Check Price on Amazon Here |
| Level of Usage | Long Term Investment |
2. Iwata Custom Mircon | Best Detail Airbrush for Automotive Paint
The Iwata Custom Micron is the creme de la creme detail airbrush in the business. Its 0.23mm nozzle is capable of producing extremely fine detail – making it a joy to use with solvent-based automotive paints. Iwata's craftsmanship is unparalleled on this product – the trigger is buttery smooth, weight distribution impeccable, and nozzle housing section is expertly built for a smooth paint stream. This airbrush is a large investment but if you want to airbrush automotive paints like a pro, the custom micron is your pick.
3. GSI Creos Mr. Procon Boy LWA | Best Wide Spray Airbrush for Automotive Paint
The CSI Creos Mr. Procon Boy LWA is the perfect crossover between airbrush and spray gun. It has a 0.5mm nozzle with 2 different kinds of air caps – capable of both round and fan spray patterns. The single-action pull-style trigger resembles that of an automotive spray gun but in a smaller, detail-oriented package. If you're looking to paint fills or gradients using automotive paint, the Mr. Procon Boy LWA will give you that wide spray pattern without sacrificing precision.
| CSI Creos Mr. Procon Boy LWA | |
| --- | --- |
| Level of Detail | Wide (0.5mm nozzle) |
| Cost | Average | Check Price on Amazon Here |
| Level of Usage | Long Term Investment |
4. Master Airbrush G233 | Best Value Airbrush For Automotive Paint
The Master Airbrush G233 gives you a lot for its price. I will not promise this airbrush to be high-caliber, but it will get you into airbrushing automotive paint for cheap – perfect for doing simple paint touchups. It comes with 3 nozzle sizes: small, medium, and large. However, I am not confident that this airbrush can achieve high performance will the smallest nozzle as the craftsmanship and building materials are just not there. For a great point-and-shoot automotive airbrush, the G233 will get the job done.
| Master Airbrush G233 | |
| --- | --- |
| Level of Detail | fine, medium, and wide (0.2mm, 0.3mm, 0.5mm) |
| Cost | Average | Check Price on Amazon Here |
| Level of Usage | Short Term |
5. VIVOHOME | Best Airbrush Kit for Automotive Paint
The VIVOHOME Airbrush Kit comes with everything you need to start airbrushing automotive paint without anything extra. You get an airbrush, hose, and a compressor with a holding tank. The compressor tank is very important for high-volume painting such as automotive. Compressors without holding tanks are at higher risk of overheating because they cannot charge up air pressure and run constantly. The VIVOHOME kit gives you confidence that it can handle the demands of automotive airbrushing.
Other Accessories for Automotive Airbrush Painting
For a complete automotive airbrushing setup, you'll need to grab a few more items:
Compressor
Hose
Paint
Mixing cups
Mask
Airbrush Air Compressor
The air compressor is one of the most vital pieces of equipment in automotive airbrushing. If you don't have enough air volume and air pressure, your paint stream will become inconsistent. The air pressure will start off fine and slowly deteriorate until it turns into a sputter.
For wide spraying applications, you'll want a compressor that can achieve at least 40 PSI and 1 CFM for detail work. For wide spray applications, you should be leaning towards 70 PSI and 5 CFM capabilities.
A holding tank is very important for automotive airbrushing because its a relatively high-volume application. Holding tanks allow the compressor to "charge up" instead of running constantly. This break that a holding tank can give your compressor will help prevent overheating and damage to your compressor.
There are many good airbrush-specific compressors on the market, but you can also use a large shop compressor if it has enough power.
ARTICLE: How to Use a Normal Air Compressor for Airbrushing
Airbrush Hose
The airbrush hose connects the airbrush to the compressor. You'll need to get a hose with the right hook-ups on either end – one for the airbrush and the other for the compressor.
The threads for hooking up an airbrush hose will come in two different styles: NPT (National Pipe Taper) and BSP (British Standard Pipe).
Make sure you have the style of threads for each end of the hook-up!
This post about how to use a normal shop air compressor for airbrushing explains how to match the different thread styles very well.
Automotive Airbrush Paint
Automotive airbrush paint is typically solvent-based. This means that various chemicals are used to suspend other paint components for delivery onto the substrate. This is in contrast to water-based or alcohol-based airbrush paints.
Solvent-based paint flows very nicely for airbrushing. There are also tons of additives that you can mix into solvent-based paint to make it behave how you want. This article about how to use automotive airbrush paint on metal gives a good intro on how to mix solvent-based paint additives.
One of the best solvent-based paints for automotive airbrushing on the market is House of Kolor. They make a wide variety of paints, additives, and finishes specifically for automotive airbrushing.
Automotive Paint Mixing Cups
Since solvent-based automotive paint requires so much mixing, you'll need something to mix it in.
I find that plastic containers with the scale on the side work especially well for measuring directly in-cup.
Airbrushing Mask for Safety
Airbrushing Masks are essential for spraying solvent-based automotive paints. Paint solvents contain toxic chemicals that can make you lightheaded in the short term and cause serious health complications in the long term.
This article explains everything you need to know to choose the best kind of mask for airbrushing.
For a quick and dirty explanation of which mask to get for automotive paint: get a half-facepiece elastomeric respirator with an organic vapor P100 cartridge/canister such as the 3M Quick-latch 6503QL. This type of mask will provide the protection you need for airbrushing any solvents safely.
---
Automotive airbrushing is a tricky business but its also a rewarding venture. Cars, trucks, and bikes are all relatively valuable pieces of property – if you mess up the airbrush art, its a sad day for the owner.
Fortunately, if you get the right airbrush for the job at hand, you will be far better prepared to pull off a killer paint job and make the owner happy as can be.