When you start getting good at airbrushing, a natural progression is to start painting on different materials. Maybe a friend asks you to paint a t-shirt, or you have aspirations to paint the tank on your motorbike. Whatever it is, doubt can easily creep in as you think about whether the airbrush will work on your chosen material.
Luckily, airbrushing has been around for many years and much effort has been spent on designing systems to airbrush on different materials.
As a general rule, you can airbrush on most materials by preparing the substrate, using the proper paint, and using the right technique. Fabrics, metal, canvas, and vinyl are some of the most common materials to airbrush on.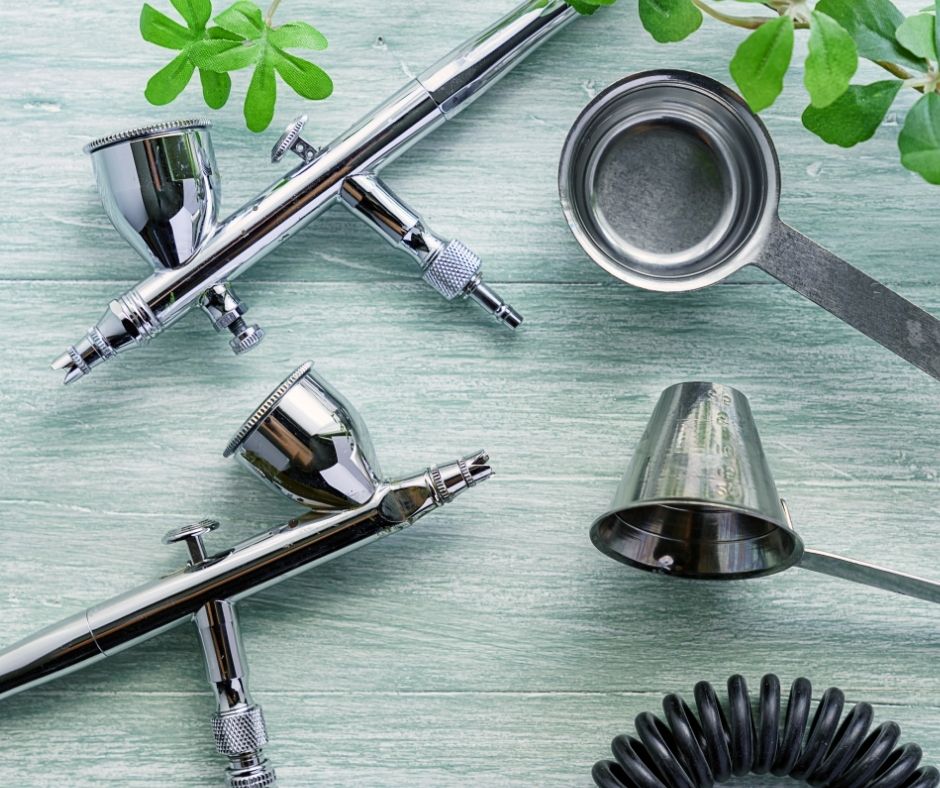 What Makes a Good Material to Airbrush On
The best material to airbrush on should be able to take and hold the atomized airbrush paint. This means that it should have a rough enough surface for the paint particles to bind.
If the airbrush paint particles do not stick, they will glance off the surface and make a cloud of paint in the air. This cloud will eventually start settling on surrounding surfaces as a dusty film – to learn more about this paint dust, check out this article about how to keep your airbrush workplace clean and tidy.
Extremely smooth surfaces are not out of the question, but you will have to do some prep work to allow the paint to stick. This will involve either scuffing the surface, applying a primer, or both. These surface prep techniques are common for airbrushing metal.
Additionally, the binding and adhesion properties of the paint will vary between paint compounds and brands. Therefore, using the correct paint for the intended material will be imperative to a successful paint job.
Airbrush on Fabric
To airbrush effectively on fabric, you have to focus specifically on 3 different things:
Using a good airbrush paint for fabric
Using good airbrush technique
Heat setting the design
Airbrush Paint for Fabric
Good airbrush paint for fabric binds well to the threads. Over the years, I've experimented with several airbrush paints for fabric and found that Createx Colors and Wicked Colors work great. They're both water-based acrylics that flow well out of the airbrush, and bind well to the fabric, and are heat-settable.
Airbrushing Technique for Fabrics
Because fabric has a rough surface, there is an increased danger of overspray getting where you don't want it. Therefore, you will want to adequately reduce the paint mix, and spray relatively close to the substrate.
How to Heat Set your Airbrush Design on Fabric
To heat set your airbrush design on fabric, you need to apply both adequate heat and pressure. The ideal way to heat set your fabric design is by using a heat transfer machine. You can pick one of them up easily on Amazon.com or at your local craft store.
Also, make sure you use Teflon sheets to pad the surfaces of your heat press – keeping the airbrush design from sticking and keeping the pads stain-free.
Set your heat press to about 350 degrees F and press for about 1 minute to properly heat set your airbrush design.
If you don't have a heat press machine, you can make do with a clothes iron set to high temperature. Press down hard as you iron for a few minutes to ensure that all areas receive adequate heat and pressure.
Airbrush on Polyester
Airbrushing on polyester is very similar to airbrushing on other fabrics such as cotton. Water-based acrylics like Createx Colors and Wicked Colors work well on polyester.
The main challenge in airbrushing on polyester is to get the paint to stick to the fabric while not melting the fabric through the heat-setting process.
Polyester is essentially made up of long strands of plastic polymers manufactured in the factory. This means that they are often tightly woven together which makes it more difficult for paint to get between the strands and adhere. Further, excessive heat setting risks melting the polyester which can give it an unsightly and uneven shine.
To get around the paint adherence problem:
prewash the polyester fabric,
adequately reduce your airbrush paint, and
heat press on a lower setting.
Prewashing loosens the fabric strands and ensures that any protective seals from the manufacturer are removed.
Reducing the airbrush paint more than typical lets the paint get in between the polyester strands, really soak it up, and avoid making a crusty surface layer of paint.
When you're heat setting the design, start on a lower setting around 200 degrees F and work your way up towards 300 degrees F. The idea here is to use as little heat as possible to heat set the design.
Test the temperature on a small piece of fabric. As soon as you notice a sort of shiny finish forming on the fabric, this means the plastic is melting and you should heat press below this setting.
Airbrush on Metal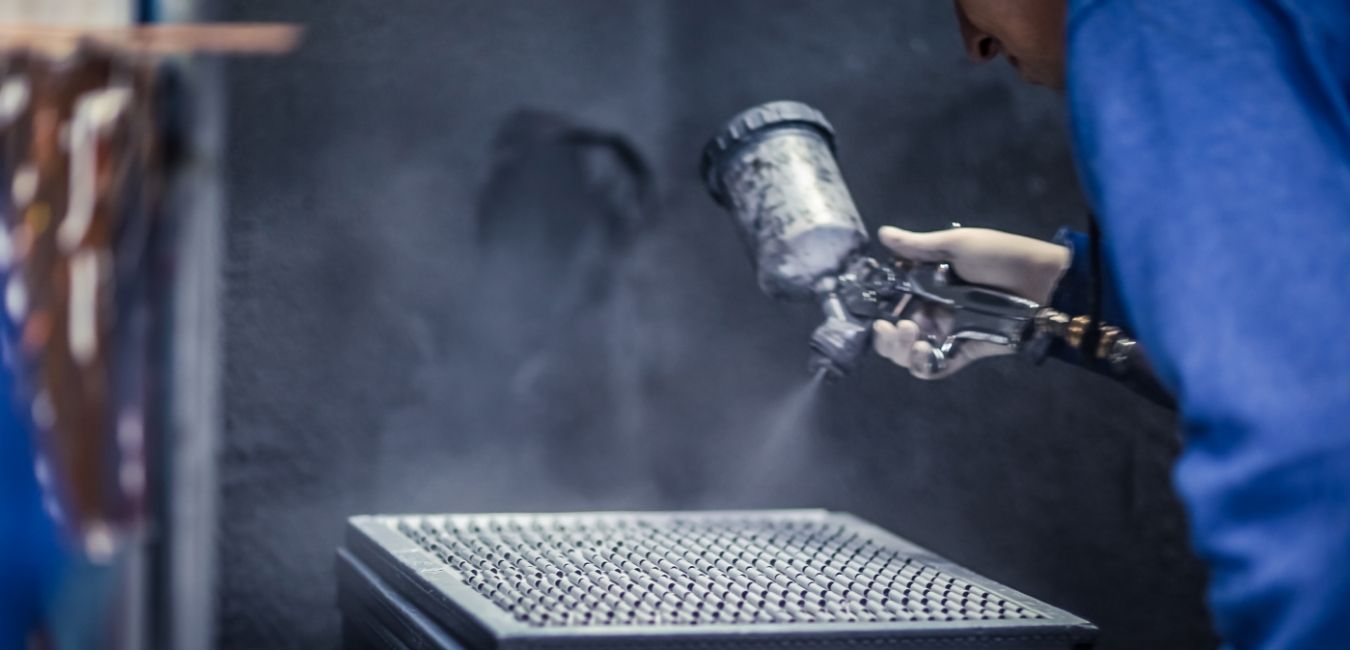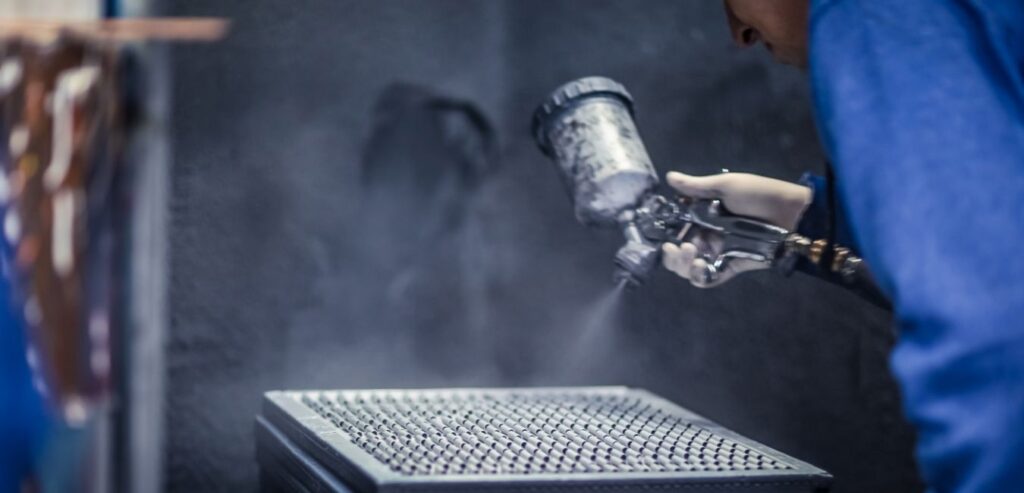 To airbrush on metal, you'll want to follow these important tips:
Prepare surface by scuffing
Use a solvent based airbrush paint
Apply a top coat
It's important to scuff the surface of metal before airbrushing so that the airbrush paint will adhere to the surface. Oftentimes, the surface of the metal is too smooth and the atomized paint particles won't stick properly.
Use a scotch bright pad to give it a quick once over and roughen up the surface.
Solvent-based airbrush paint is the best for airbrushing metal. Anything with a urethane or polyurethane-based medium (such as House of Kolor Airbrush Paints, or Createx Opaque Colors) will have the best properties for binding with a metal substrate and lasting for a long time.
The final step to making airbrush on metal turn out great is to apply a top coat. Top coats are clear finishes that go overtop of your artwork and protect and preserve them. When applied properly, they can also make your artwork "Pop" and bring out the richness in the colors
For an in-depth explanation of this process, check out this other article about how to airbrush on metal.
Airbrush on Canvas
Canvas and canvas-like substrates work great for airbrushing. When you're trying to work on your art skills, there's something about painting a traditional canvas that makes the piece feel official!
Both water-based acrylics and solvent-based paint will work great on most canvases. The main consideration is how coarse or smooth the surface is. Rougher and course canvases will typically soak up the paint more and give a rougher texture to your artwork.
A really good option as an airbrush substrate is Airbrush Art Paper. This ultra-smooth paper picks up very subtle design elements and can be erased. Because of its properties, many photorealistic airbrush artists choose to use smooth airbrush paper for fine detail-oriented projects.
Airbrush on Skin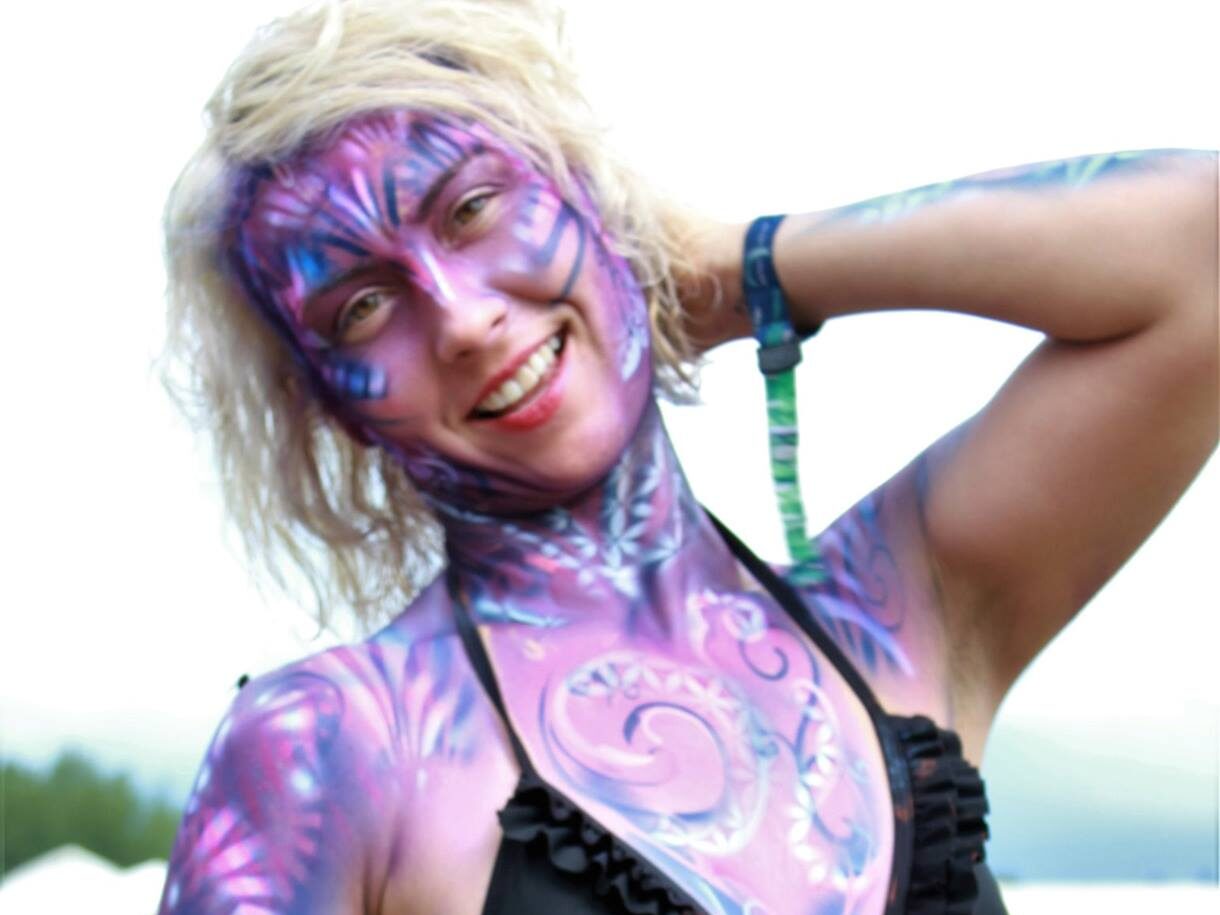 Airbrush on skin (also known as airbrush body painting) is an amazing art form that utilizes the full potential of an airbrush.
Airbrushing allows the artist to cover lots of area quickly, layer colors and designs, and use stenciling to wrap around body parts for a very dynamic and unique effect.
Always use non-toxic water-based airbrush paint for body painting. Createx Colors and Wicked Colors work great for this application as well – they stick great to the skin, are relatively sweatproof and waterproof, and they stay on for about 1 full day.
For more info on airbrush body painting, check out this article about how to easily start right away for cheap.
This article will teach you how to use airbrush stencils effectively for bodypainting.
Check out this article for some inspiration for body paint designs that look great on everyone.
In fact – airbrush body painting is actually one of my passions and a huge part of this website, so please browse around for more information on this subject!